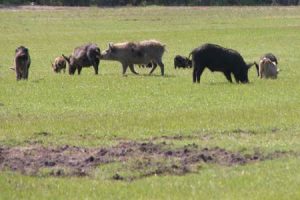 CLEMSON, S.C. – Clemson University wildlife ecologists are collaborating with the South Carolina Department of Natural Resources, USDA Wildlife Service and Farm Bureau over the next two years to quantify the economic and ecological damage feral hogs cause to South Carolina's agricultural and natural resources.
They will be crafting novel and effective management strategies and educating farmers and landowners throughout the Southeast.
When Spanish explorer Hernando de Soto went ashore near present-day Tampa in 1540, he brought with him pigs that he gifted to Native American chiefs for the delicacy of cooked swine. Today, de Soto's gift of succulence is a curse of pestilence as feral hogs are overrunning South Carolina and other southeastern states.
"Studies show that invasive feral hogs cause an estimated $120 billion per year of economic damage in the U.S., but we have almost no data on the economic or ecological damage they are causing in South Carolina," said Kate McFadden, a Clemson wildlife ecologist in the School of Agriculture, Forest and Environmental Sciences.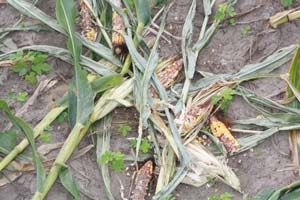 McFadden and her team will start by surveying landowners to quantify the amount of damage and determine what counties are hardest hit. The researchers then will work with selected landowners in feral hog "hotspots" to implement and test the effectiveness of a new remote infrared-triggered camera trap survey system that will enhance their ability to detect and monitor feral hog presence and assess damage. Clemson University students pretested the camera trap system in the Clemson Experimental Forest.
The study will be one of the first to assess both economic and ecological damage. The data will be used to design a feral hog-management strategy that will be imparted to landowners across the Southeast through a series of workshops and outreach efforts.
Landowners now can report wild hog sightings through Clemson Extension's South Carolina Wild Hog Task Force website.
"Feral hogs are the No. 1 wildlife problem facing the state of South Carolina," said Marion Barnes, senior Extension agent for Colleton and Hampton counties.
Ecological damage can come from the spread of disease, destruction of vernal pools and competition with other animals. The hogs prey on wildlife and livestock and consume agricultural crops, and their rooting, wallowing and nesting behavior destroys agricultural infrastructure, decreases water quality and promotes soil erosion. They can carry zoonotic diseases such as foot-and-mouth and swine brucellosis. They also damage the state's timber industry by depleting soil nutrients and consuming seeds, sprouts and seedlings, which prevents reforestation.
"In addition to the tremendous amount of damage they are causing crops and timber, they are also turning up in urban and suburban neighborhoods throughout South Carolina and the Southeast," Barnes said.
Horry County residents recently reported wild hog sightings in some neighborhoods, and hogs have been toppling garbage cans and scaring children in the Atlanta suburbs.
"It's a yearly battle," said Allendale County farmer Mark Connelly. "One year I planted 93 acres of corn on a Saturday. By Wednesday night, the hogs had covered the whole field."
Connelly farms approximately 13,000 acres near Ulmer and must hire hunters to control the hog population on his land.
"I have a guy with a night vision scope. He hunts from January to May and I pay him $25 per head. He's killed as many as 300 hogs on my land alone, and he works on other farms around here as well," Connelly said.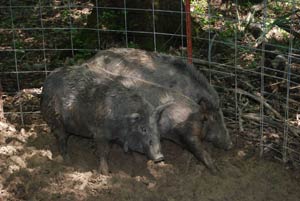 Trapping followed by euthanasia is the conventional method of management, but there is debate about which baits, trap designs and strategies are most effective.
McFadden said that hogs' early age of sexual maturity, ability to breed multiple times per year, large litter sizes and extended natural life span means that more must be done to control their numbers.
"The consensus among biologists and natural resource professionals is that individual landowners and local communities can have the greatest impact on reducing feral hog population numbers and damage. The goal of this study is to determine the best practices in controlling this species, determine the ecological and economic damage to natural resources and to give stakeholders the resources and support they need to help solve this problem," McFadden said.