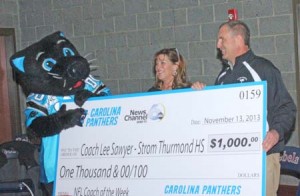 Strom Thurmond Head Football Coach Lee Sawyer received quite a surprise Wednesday morning.  The coach was not aware that he had been selected Coach of the Week by the Carolina Panthers organization until Principal Jill Jett escorted him into the field house commons to the thunderous sound of clapping and cheers for the man that has come to mean so much to Strom Thurmond High School.
The selection of Coach Sawyer for this award included a $1,000 check for the school and an invitation to be introduced at a Carolina Panthers game along with the other recipients of this year's awards.
Players, family, friends and work associates listened as Coach Sawyer spoke thanking everyone and crediting them with his success, as Coach Sawyer always does.