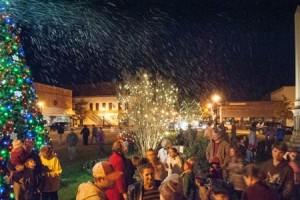 The Edgefield square was filled with anticipation as children and adults settled in on Friday evening for a short program of carols, emceed by Caroline Bland, Clio Lampkin led in prayer, and Gina Lester Sheely led the singing.
The climax was the turning on of the Christmas tree lights by the Mayor along with the first burst of snow into the air.  Festive and exciting it was.
The square now awaits the parade on Sunday and other advertised events of this weekend.
—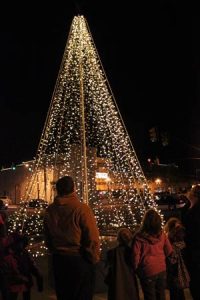 Johnston Community Christmas lighting ceremony, presented by the Johnston Development Corporation, was held Monday evening.
The welcome ceremony presented by Mayor Andy Livingston followed by the Christmas Story also presented by the mayor.
Dean Campbell, Chairman Johnston Development Corporation emceed the event. Music presented by Johnston Community Citizens and Johnston Elementary School Chorus, Laura Herring, Director. Tree lighting by Bruce Lee, Principal and Tammy Martin , Asst. Principal.
Santa Claus handed out coloring books to children who stood in line.