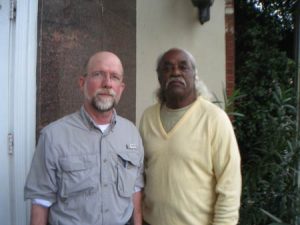 Edgefield First Baptist Church will host a Christians United open forum on Saturday, Dec. 14, at 8:45 a.m.  Sam Crouch will be presiding over the forum that will include singing, led by EFBC Youth Minister Matt Herring, as well as prayer and discussion.  Area pastors who have signed on to support the event include Stacy Williams of EFBC, Barry Cannon of Edgefield Methodist Church, Willie Patton, Jr. of Moore's AME, Eric Dawson of Edgefield Church of God, and Eddie Woods of Trinity Community Church.
The "facilitators" (as they like to be called) for this event are the Rev. Cleo Lamkin and Sam Crouch.  As the two explained to The Advertiser in an interview Friday, Dec. 6, the idea for this forum was born out of last year's Easter Sunrise Service at Slade Lake.  As they related, the declining involvement in this service spurred them into talking about how to get more churches involved in the event.  Those discussions led to others on how to not only get involvement around the sacred Christian holiday but also throughout the year within the county.  The pair expressed how the upcoming open discussion is geared at getting ideas and suggestions on how Christians can come together and practice the call to love thy neighbor as thyself.  The Rev. Lamkin said the event will be used to "dismiss some myths … and get to know each other."  Lamkin and Crouch ultimately want to see the Easter Sunrise Service, an event that Mr. Crouch says "goes back well into the 1990s", be the first annual event to promote unity in the community.  Mr. Crouch said that while the crowds of late at this event have been more "polka dot", it is his hope to "put a rainbow color on the lake for Easter Sunrise Service."
To obtain more information on the forum or to confirm participation, please call 637-6139.  A light breakfast will be provided.