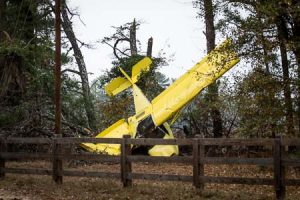 A small two-seater experimental airplane crashed at the Trenton Airport late Monday afternoon, Dec. 2.  According to an official at the scene who spoke with The Advertiser shortly after the crash, the pilot, Larry Putt, of Augusta, took off from the Trenton airport where his plane is reportedly kept.  Sometime after take off the engine quit.  Unable to restart it, Putt attempted to land in a field near the airport.  During that attempt, the plane clipped a tree, spun, and eventually hit a power line before landing nose down in the tree line near the airport.  Putt was able to walk away from the accident with only a small cut to his hand.
The Trenton Fire and Police Departments as well as the Edgefield County Sheriff's Office and Emergency Management responded to the crash site.  EMS was also there as a precaution to evaluate the pilot's condition.  The Federal Aviation Administration was in route to the scene to conduct an investigation into the official cause of the crash.
As this is a developing story, The Advertiser will continue to follow this accident and make updates as warranted.