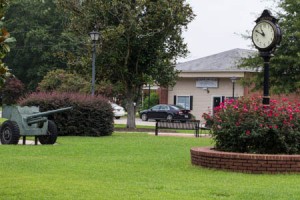 – By Tiffani Ireland –
The Trenton Town Council unanimously adopted their 2014 budget on second reading at their regularly scheduled monthly meeting, Wednesday, Dec. 11.  In additional matters related to money, Council also agreed unanimously to grant two request for donations; one to the Chamber of Commerce to aid in the funding of the replacement of an air conditioner unit and the other to Douglas Elementary for assistance in supplying copy paper to the school.  Each entity received $100 from the Council to help with their respective projects.
Administrator Roger LeDuc appraised Council of matters regarding the library discussed at their previous Council meeting.  Mr. LeDuc said after touring the library with the librarian, he did not see any mold on the walls nor was there any evidence of any new leaks since the roof's replacement.  In regards to the odor of which there has been some complaint, Mr. LeDuc recommended purchasing an air purifier, the cost for which he estimated to be $100.  He further recommended repairing the wall that has stains and nail damage in the spring.  He also advised Council that light bulbs were recently replaced in the library.  As for the concerns of loiterers around the library after hours who are suspected of doing such in order to access the library's Wi-Fi, Mr. LeDuc said the library is not in favor of turning off the service as information and updates are sent to all the libraries in the ABBE system after operating hours.  Council understood this concern and no further discussion was given to this issue.
Mr. LeDuc advised Council that US Fibers wishes to show their appreciation to the town by making a donation to Trenton.  There was some discussion as to needs the town might have, such as a new golf cart, for which the business might be interested in providing funds.  Mr. LeDuc is expected to continue conversations with US Fibers on this matter and will provide discussed needs to the business.
Before adjourning, Mayor Billy Padgett commented on the state of the town.  "I think we had a good year this year," the Mayor said and went on to wish everyone a Merry Christmas and Happy New Year.