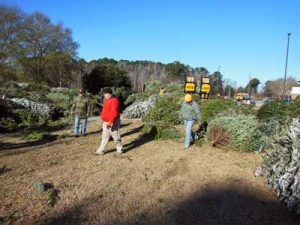 SAVANNAH, Ga. – After wrapping up a successful Christmas tree recycling program last week, the U.S. Army Corps of Engineers Savannah District welcomes anglers to take advantage of about 1,500 used Christmas trees now available for use as fish attractors at select boat ramps on J. Strom Thurmond Lake (Clarks Hill, S.C.).
"This was a very successful year for our annual Christmas tree recycling program," said Ken Boyd, a biologist with the Corps' Thurmond Lake office who leads the tree recycling effort. "We would like to thank everyone from the community who participated. It's a great way for us to re-use the trees to benefit recreational fishing and fishing habitat at the lake."
Last week Corps park rangers and volunteers transported the trees from the community drop-off site at Riverside Middle School (in Evans, Ga.) and distributed them at select boat ramps surrounding Thurmond Lake for anglers to use.
"We ask that anglers be sure to weigh down the trees adequately to minimize movement along the lake bottom," Boyd said. "We recommend using a concrete block. Also, it's important that trees are placed in a way that does not impede navigation on the lake. We are happy to answer any questions anglers may have about placing trees."
Submerging trees near private docks or private facilities is strictly prohibited.
"The submerged trees attract fish because they provide cover for small fish, as well as a substrate for algae growth, which creates a feeding area for smaller fish," said Jamie Sykes, Corps of Engineers' fisheries biologist. "These small fish attract larger species, thus creating an enticing "hot spot" for anglers."
Trees are available to anglers at the following areas:
On the Georgia side of the lake:
– Amity Day Use Area
– Big Hart Day Use Area
– Keg Creek Bank Fishing Area
– Gill Point Boat Ramp
– Fishing Creek Boat Ramp
– Cherokee Boat Ramp
– Double Branches Boat Ramp
– Hidden Harbor Boat Ramp
– Crooked Bridge Boat Ramp
On the South Carolina side of the lake:
– Dordon Creek Boat Ramp
– Parksville Day Use Area
– Longcane Boat Ramp (US Forest Service)
– Little River Boat Ramp (US Forest Service)
– Scotts Ferry Boat Ramp
– Landrum Creek Boat Ramp
Boyd and his team also plan to submerge some of the Christmas trees at various fishing locations throughout the lake, pending weather conditions and lake advisories. For a list of GPS coordinates to locate these placed trees, contact the Thurmond Project Office at 1-800-533-3478.
For questions or additional information about the tree recycling program, contact Ken Boyd at 864-333-1159.