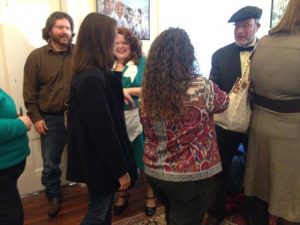 Bus Stop by William Inge was well done by the Edgefield County Theatre Company, as seen by a full audience on Sunday afternoon's matinee. A bus station in the cold winter, as winds and snow hold up transportation, is the setting. Players are introduced in the first act, and it is in the second act that they develop into characters of varying interests and motives: a drunkard professor (Chris Clancy), a warm and inviting café manager (Jamie Johnson Turner), a sometimes naïve young waitress (Korilyn Hendricks), a voluptuous singer/entertainer (Brandi Pittman), a steady sheriff (Dustin Turner), the bus driver who "engages" with the café manager (Mitchell Bland), a young rancher in love (Michael Coleman), the rancher's hand (Stacy Williams), and the stormy weather that influences their actions. Love has many faces in this play.
Dreams, aspirations, the restoration of bungled plans and the beginning of insight that may make changes, all reach a climax when the rancher makes a change for the better. As the roads open for their bus ride, everyone seems more content with life's offerings, except the ranch hand, who accepts his destiny more realistically, and without the comfort of the bottle which at least the professor has.
So goes a drama that is well acted and holds some laughter and an approach to tears for the audience – a great play, a well-selected cast.