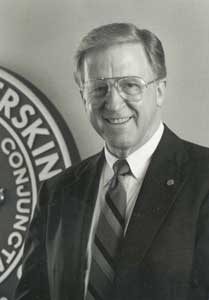 Dr. James W. Strobel, 80, died in an automobile accident in Florida on Jan. 8, 2014. The 12th president of Erskine College and Theological Seminary, he served from 1990 until his retirement in 1998.
Strobel was a native of Ohio and a graduate of Ohio University. He received his Ph.D. in plant pathology from Washington State University.
He came to Erskine after serving as founding director of the Mississippi Universities Center in Jackson, Miss., and Board Distinguished Professor at Jackson State University. Earlier, he served an 11-year term as president of the Mississippi University for Women in Columbus, Miss.
During his tenure at Erskine, the college more than doubled its endowment, removed all debt, and successfully completed the $33 million Campaign for Erskine. Erskine's academic excellence was recognized under his leadership. A professor was named South Carolina Governor's Professor of the Year in 1995, three students were named Goldwater Scholars in one academic year, and Erskine students were named South Carolina Private School Student of the year in two of the three years preceding his retirement.
He and his wife Donna extended warm hospitality to Erskine students and were known for their homemade candy, including "Erskine Crunch," which they shared generously. He also worked with students to create The Hangar, a student meeting space and lounge in the historic Erskine Building.
When Strobel announced his retirement at a Board of Trustees meeting in 1998, a new $7.4 million science facility was under construction. Other improvements during Strobel's presidency included the development of a Campus Master Plan and the addition of the Bell Sports Complex and the Bowie Arts Center.
Dr. Strobel is survived by Donna Strobel, his wife of 58 years; daughter Cynthia; son Jay; his two brothers, Robert Strobel of Cadiz, Ohio and Darryl Strobel of Pittsburgh, Pennsylvania; his sister, Cheryl Connery of St. Paul, Minnesota; and grandchildren Trey, Courtney, Jarrett, Annalee, Dana, and Jacob.
A Celebration of Life for Dr. Strobel will be held at Hope Lutheran Church, The Villages, Florida on Sunday, January 26, 2014, at 2:30 in the afternoon.
In lieu of flowers donations may be made to scholarships in his name at Erskine or at Mississippi University for Women. Beyers Funeral Home and Crematory, Lady Lake-The Villages, Florida is in charge of arrangements, where condolences may be sent to or posted.