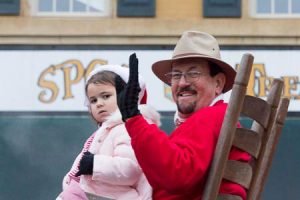 Johnston Mayor Andy Livingston announces that he will seek re-election in the municipal election coming up on April 8, 2014. This election will also include voting for the Wards 2 and 4 seats, now held by Tommy Stone and Tommy Burton, respectively.
A native of Johnston, Livingston was elected to his first term in April of 2010 after serving on the Edgefield County School Board for fifteen years.
"This first term has afforded me the opportunity to develop working relationships, both inside the Town's framework and outside with other governmental authorities," Livingston states. " Together with Council, we have forged a better financial foundation to run our programs and services, and I look forward to continuing to improve the operations and appearance of our Town."
During Livingston's first term, the Mayor and Council have updated the municipal Code of Laws, supervised improvements through the Community Block Development Grant program, and entered into a contract and loan agreement to purchase a much-needed garbage truck.
Challenges for the coming years, according to Livingston, are maintaining the operations of the Town within its own budget in light of the addition of the $24,000 in payments (for the next seven years) for the purchase of the garbage truck, as well as attempting to maintain the level of services provided to the Town's citizens.
Livingston obtained his degree from the University of South Carolina-Columbia and is a Certified Public Accountant with his office in Johnston.  He and his wife, the former Donna Courtney, reside in downtown Johnston and enjoy the company of their three children and four grandchildren.