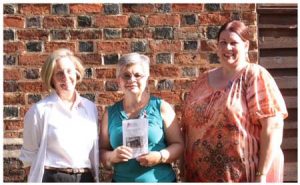 The Old 96 District Chapter, National Society Daughters of the American welcomed new members: Lynn Adams Melton, of Edgefield, Mary Lake Watson of Johnston and Kelly Hagens- Swart of Vaucluse. The new members are standing in front of the chimney of the Marsh-Johnson House after the dedication of the Marsh-Johnson House Interior Restoration. The Marsh-Johnson House, owned by the Saluda County Historical Society, was the recent beneficiary of the sponsorship of the Old 96 District Chapter, Daughters of the American Revolution in restoring the interior of the house, a home built around the American Revolution.
Lynn Adams Melton's patriot was James Quackenbush who assisted in establishing American independence while serving in the military as a Private in New York and Ensign in New Jersey, receiving a military pension after the war.  Mary Lake Watson's patriot, John Boland, a resident of the 96 District during the American Revolution was a native of Hesse, Germany and assisted in establishing American independence by performing public service when he furnished provisions & forage during the revolution, receiving payment for his donations after the war.  Kelly Hagens-Swart's patriot, Rachel Derrin Quattlebaum, the wife of Mathias Quattlebaum of the Dutch Fork area of the 96 District was reimbursed for horses after the American Revolution. Kelly's patriot is the only woman Patriot among those in the Old 96 District Chapter, NSDAR. Mathias Quattlebaum is also a patriot having given material aid to the cause of freedom.
The DAR Chapters support schools for underprivileged children and promote American history education.  If any lady is interested in joining, please go to the NSDAR web site and find a chapter near you. "Any woman 18 years or older, regardless of race, religion or ethnic background, who can prove lineal descent from a patriot of the American Revolution, is eligible for membership." per the NSDAR.
Submitted by Judy Dancy Duncan, Registrar, Old 96 District Chapter, NSDAR