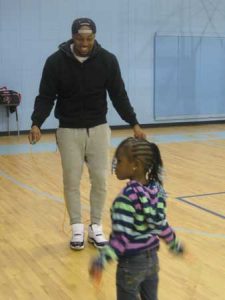 Dekoda Watson, linebacker with the Tampa Bay Buccaneers, came to RSM Elementary/Middle to participate in Jump Rope for Heart Jump-a-thon for the K4 and K5 classes.
Dekoda played football at South Aiken High School and Florida State. He was drafted by Tampa Bay in 2010. Dekoda has a foundation called Koda's Kids that promotes physical activity among children. His foundation donated to the American Heart Association in the name of his cousin Trevor Williams who is a 3rd grader in Mrs. Cockrell's class.
Dekoda jumped rope with the kindergarteners and reminded them to strive to make good grades, be respectful, and to exercise regularly to stay healthy. At the end of the Jump-a-Thon Dekoda gave each student a Tampa Bay Buccaneer sweat band to remember their experience.
For more information on Dekoda's platform and the NFL healthy kids push, go to www.nflrush.com/play60. Have your child take the NFL Play 60 Challenge.