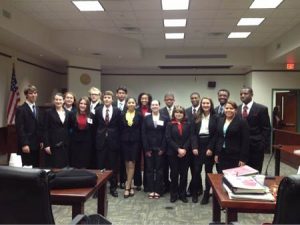 The Strom Thurmond High School Mock Trial team is headed back to the State Championship Tournament in Columbia, March 7-8.  Loaded with talent at the witness and attorney positions, the school was able to field two teams.
Last Saturday in Greenville, at the Piedmont Regional competition featuring sixteen of the fifty-eight high school teams in the State of South Carolina, STHS Team A and Team B, both with 2-0 records, squared off agaiinst each other in the third and final round.  (Only one team is allowed to advance from a school. ) Following a tenacious round of competition– in which the plaintiff (Team A) alleged the defendant (Team B), a private school and its track coach were responsible for the wrongful death of a seventeen year old member of thetrack team who died suddenly of a heart attack brought on by an overdose of steroids–Team A advanced to the state competition.
Both teams were coached by attorney Blair Massey and teachers Denise Jackson and Steven McKinney.