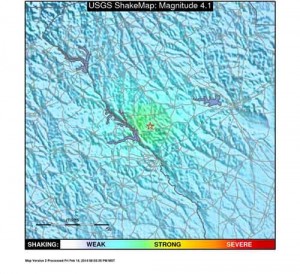 A 4.1 magnitude earthquake struck Edgefield County Friday night, February 14, jolting residents in South Carolina, Georgia, North Carolina, and as far away as Alabama, Tennessee and Virginia.
According to the U.S. Geological Survey the quake hit at 10:23 p.m. about seven miles west-northwest of Edgefield, near China Grove Church. The quake occurred three miles underground.
Thousands of people reported heavy shaking for several seconds via the USGS website.
—
Have something to say? Leave your comments below.