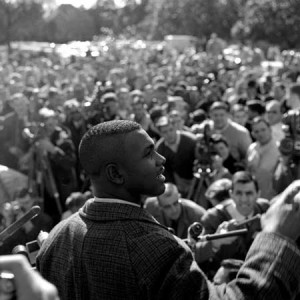 CLEMSON, S.C. – The documentary "The Education of Harvey Gantt," chronicling the journey of the South Carolinian to become Clemson University's first African-American student, will be broadcast nationwide in February, Black History Month.
South Carolina ETV, an affiliate of the national Public Broadcasting Service (PBS), will broadcast its documentary  beginning Feb. 4, on stations in more than 72 percent of U.S. television markets. American Public Television is distributing the documentary nationally to markets including New York, Los Angeles, Chicago and Philadelphia, among the top 10 in the country.
The production documents Gantt's successful efforts to desegregate Clemson University, with the assistance of the NAACP and attorney Matthew J. Perry. Gantt enrolled at Clemson as the first African-American student in January, 1963. The university marked the 50th anniversary of the event,  characterized as "integration with dignity," last year. The Charleston native studied architecture and graduated from Clemson with honors in 1965.
Award-winning South Carolina ETV producer Betsy Newman directed the documentary.
"I'm very excited and happy this program will be seen all over the country because it's such an important part of the civil rights story and it hasn't been told before, " Newman said.
Gantt moved to Charlotte, N.C., after he graduated from Clemson. It was in the Queen City that he founded Gantt-Huberman Architects, sat on the Charlotte City Council and became the city's first African-American mayor.
Tony Award-winning actress and singer Phylicia Rashad narrated the documentary, which features historic photographs by Cecil Williams.