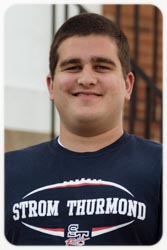 – By G. Miller Thompson –
Two weeks ago today, our community was hit with severe winter weather.  The ice caused widespread damage across the CSRA; some of which is still being cleaned up today.  Nearly 200,000 homes in the region went without power for several days.  Fallen trees downed power lines and many described the appearance of their yards as "war zones."  Ice Storm 2014 is one that will not be soon forgotten.
In the days following, we owe a debt of great gratitude to the linemen across the region.  These individuals worked tirelessly day and night in order to restore power to thousands of families.  Enduring the cold and ice, linemen sacrificed sleep and time with their own families to make life more confortable for all of us.
Electricity is something we take for granted.  Rarely does a storm cause such widespread in our community, but when one does we cannot seem to keep ourselves together.  I have heard reports of people following the lineman back to company headquarters and exchanging some not so pleasant words out of frustration because of the lack of electricity in their homes.  I saw on Facebook and Twitter the various complaints from folks around the community.  Frankly, we are a spoiled society.
Last year, the Augusta Chronicle reported that Augusta's homeless population amounts to more than 800.  While that number seems small compared to 200,000, 800 adults without a home to call their own is a humbling number.  These people are members of our community.  While some of us were without power for a few days, these men and women have been without a home of their own for months, maybe years.
There may be some exceptions, but the overwhelming majority of those who lost power were more inconvenienced than anything else.  In all the complaining, we have failed to realize how fortunate we truly are to have had electricity to begin with.  During times like these, the self-serving nature of humanity shows its ugly face.
I felt it was important to include the information on homelessness in Augusta to put into perspective how petty many of the complaints I read and heard were.  When we take this into consideration, the treatment of many linemen during the massive outage seems even more embarrassing.
The frustration many were feeling is understandable, but the linemen should not be targets at which we aim our aggravation.  Chances are that you know one of these linemen.  As I drove around the area the weekend following the storm, I watched these men working.  I was struck by the selflessness of each of them.  Sure, it is their job; but it is a thankless job.
If you see a lineman this week or know one personally, offer them a kind word.  Without them, we would all be stuck in the dark.  Thank you, linemen, for being our own hometown heroes in times of great need!