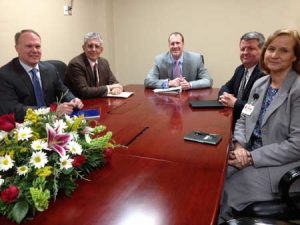 This Program Involves Care of High Utilizers & Uninsured
South Carolina's Proviso 33.34 (A(1),C,D) Healthy Outcomes Plan (HOP)  supports participating hospitals proposing service delivery models to coordinate care for chronically ill, uninsured, high utilizers of emergency department (ED) services.
Meeting with Hospital CEO Brandon Clary were: Tony Keck, South Carolina Medicaid Director, Thornton Kirby, President of the South Carolina Hospital Association, Graham Adams, SC Office of Rural Health, CEO, and Kelly Cox, Edgefield Co. Hospital CFO
Successful HOPs demonstrate models that improve the coordination of care for the uninsured, improve health and lowers health care costs and facilitate the development of a high-performing and replicable system of care at the end of the performance period.
This Triple Aim approach will lead to improved health of the population, improved patient experience of care and reduced per capita cost of health care.