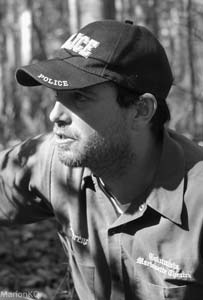 COLUMBIA, S.C. – On Tuesday, February 11, a bright and shining light went out when Andrew Quattlebaum, of Columbia, left us.  Andrew fought a long battle with mental illness with courage, grace, beauty, and humor.  He was a talented and accomplished musician, actor, and artist, appearing in many stage productions, the independent film "Summer Knowledge", and several short films.  He was a graduate of Heathwood Hall Episcopal School, and attended Emory University and The University of South Carolina.
Andrew had many, many gifts but perhaps his greatest gift was his unconditional love for his family.  In the words of one of his favorite music groups, the Avett Brothers, "Always remember there is nothing worth sharing like the love that lets us share our name".
Andrew is survived by his mother, Kat Messenger; his father, Tom Quattlebaum, his step-father, Jim Edwards, his brother, Michael Quattlebaum, his sister, Marion Quattlebaum, his grandmother, Eleanor Quattlebaum,  his step-sister and brother-in-law, Meredith and Josh Green, and his nephews Dayton and Jackson Green. His loss is also mourned by his aunts and uncles, Ann and Jim Curry, Bob and Karen Messenger, Harry Messenger, Marion and David Taylor, Marlene Allen, and Bill and Katherine Messenger; his cousins Kelley, Nick, Kristen, Kevin, Matthew, Kathryn, Sean, Josh, Luke, Hanna, Jennifer, Jack, Hank, and Stewart; and many loving friends.  He was pre-deceased by his grandfathers Mel Messenger and Nixon Quattlebaum, his grandmother Ann Messenger, and his uncle Chris Allen.
Andrew's short but amazing life will be celebrated at 2:00 on February 22, at Trustus Theater, 520 Lady Street, Columbia, SC.   Please feel free to bring memories to share.   In lieu of flowers, donations may be made to the Heathwood Hall Episcopal School's Theater Renovation Fund, 3000 S. Beltline Blvd., Columbia, SC 29201.
Milton Shealy Funeral Home is assisting the family with arrangements. Condolences may be expressed at miltonshealy.com