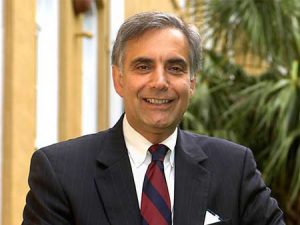 Alumni and friends of the University of South Carolina are invited to an evening with University President Harris Pastides on February 24th.  The reception, hosted by friends and alumni of the University from Edgefield, McCormick, and Saluda counties will be held at Pine Ridge Club in Edgefield.  The event will begin at 6:30 and will include remarks from Jack Claypoole, president of the My Carolina Alumni Association, and Dr. Pastides.
Dr. Pastides became president of the University in August of 2008, and was the first internal candidate selected for the presidency in more than a half century.  Prior to becoming president, Pastides served as vice president for research and health sciences and dean of the Arnold School of Public Health.  He and his wife, Patricia, first came to the university in 1998.
Leading by example, Pastides expects students and faculty and staff members to set and exceed high expectations, push boundaries and embrace innovation. He is an advocate for student engagement beyond the classroom through leadership, service learning, international experience, internships and undergraduate research.
Under his leadership, Carolina's student population has grown to record levels among the system's eight universities on 12 campuses. Knowing that degree attainment significantly affects the quality of life in South Carolina, Pastides continues to spearhead nontraditional programs such as Palmetto College, Back to Carolina, Gamecock Gateway and Gamecock Guarantee to increase university access and affordability. In addition, he leads an unprecedented capital campaign to fund essential needs for knowledge, research, discovery and development.
Before joining the university's faculty, Pastides was a professor of epidemiology and chairman of the department of biostatistics and epidemiology at the University of Massachusetts at Amherst. He received his master's in public health and his Ph.D. in epidemiology from Yale University.
Dr. Pastides has recently begun a campaign calling for a "tuition timeout".  He is offering to freeze tuition at the university in return for the South Carolina legislature agreeing to provide the university with state funding equal to last year's tuition increase and cover any mandatory benefit increases.  During the annual Carolina Day at the Statehouse on February 5th, Dr. Pastides stated that the university is not asking for any new buildings, new programs, or asking to hire new faculty.  "We are simply asking for a modest increase in state support and peace of mind for parents and students".
The event is open to all alumni and friends of the university.