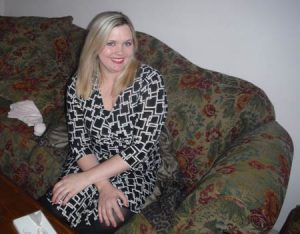 "Such a Fun Show" says Director Caroline Bland
She says she started in the Edgefield County Players after Beth Worth, a board member and conscientious supporter of most things progressive in Edgefield County, encouraged her and Beth's daughter Ashley to try out for Steel Magnolias (2011).  She had studied under drama at STHS in her high school years, but did not follow through with drama at Clemson, where she received her college degree.
Since Magnolias, Caroline has been seen numerous times on stage: Crimes of the Heart followed Magnolias, and her favorite role, Berry Ann Butler in Leonard Todd's musical, to name a few.  Probably the most interesting and challenging for her were the two male characters she played in Becky Cotton.  She was a murderer, abetted by Sam Crouch, and she says of that: "I can not think of two more intimidating (tongue in cheek) people than Sam and myself:" Meaning one would think, "We are far from murderers and together we made it look as if we were."
Here she is in the audience, not as an onlooker but as a director, with the new play Sylvia by A. R. Gurny.   Of the play she says it is "great fun, full of laughs."  One of the main characters is a dog, played by a woman.  And sometimes the dog says exactly what one's dog would say should he/she/it be able to speak!
Of directing, Caroline says: "It is very exciting and very creative!" She modestly says that because of her great cast she feels the play holds together very well. She is the "leader," nevertheless. She speaks of the Edgefield County Theatre Company having painted their headquarters in the William M. Bouknight Theatre black, making their space a true "black box theatre." This black box indicates a small theatre.  And she says that Lynn Rearden, stage manager, has used her inventiveness and ingenuity to design a great set that includes a park, an apartment and a therapist's office – all on this small but adequate stage. How will a couple walk through New York City on this stage?  One will have to come to see.
Korlin Hendricks, the waitress in the recent Bus Stop production, is the dog, Sylvia.  "You forget she is a person, not a dog," says Caroline – "Korlin is that good." Jonathan Thomas of Edgefield plays three totally different persons.  Tony Baughman (Creative Director at the outset of the ECTC) is married to Teresa Lambert who played the daughter in On Golden Pond.  Their relationship is at the crux of the story; the children are out of the house, she is starting to fulfill her ambitions, and he is left to have a mid-life crisis as he feels no one needs him. They all, the actors named above, have been seen on the Edgefield stage in some role.
Following a new approach to choosing plays for the Edgefield County Theatre, the directors are generally bringing their favorites.  Caroline says she served on the committee for choosing plays in years past and remembered reading this play.  It struck her as a very good play to produce here and she was encouraged to do so.  She noted that Laurel and Leonard Todd saw the play off Broadway some years ago, and their remarks confirmed her selection.
And, it should be added that Caroline is a business woman, one of the owners of Mercy Me! on Main in Edgefield.
The production is coming up very soon; see ad on page 6 for details for getting tickets.  It is to run the weekend of the 21st and 28th of this month.