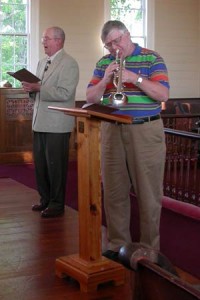 Although he is usually seen with the National Symphony Orchestra in white tie and tails, when he performs in the local area he is dressed more informally.  This is Steven Hendrickson, principal trumpet for the National Symphony Orchestra which is based in the Kennedy Center in Washington, D.C.  Not only is Steven a musician, among the best, he is also a golfer, which brings him south occasionally for the Masters Tournament.
Recently Trumpeter Hendrickson was the subject of an article for the Washington Times, by Helena Andrews, in which she solicited from him "a list of his favorite fanfare, that classic flourish of trumpets that's led many an Olympic sports team to glory. . . " This inquiry was prompted by the flourishes heard at the recent Winter Olympics in Russia.
Among those fanfares listed for the Times by Steven Hendrickson were: John Williams "Summon the Heroes" (created for the Olympics according to Hendrickson); "Liberty Fanfare," also by Williams, created for the restoration of the Statue of Liberty; and Aaron Copeland's "Fanfare for the Common Man," "as American as it gets" according to Hendrickson. The list of fanfares numbered nine, including ones by Tchaikovsky, Shostakovich, Gabrielli, and Bach.  For Bach it was "Toccata and Fugue for Organ" (even if you don't know the name you will know the music, Steven says).
Frank Sinatra and his "Fly Me to the Moon" was actually the first one on the fanfare list. Of Sinatra he said: "Sinatra is the epitome of the American singer, anything he does is great, and I wanted a Sinatra song simply because of who he is."
Hendrickson's first visit to Edgefield and the Ridge was when the NSO toured South Carolina and one of their performances was in Aiken on the USC-Aiken campus.  While in this area, Trumpeter Hendrickson gave some time in teaching two Master Classes, one at JET Middle School with the band there and also at Merriwether Middle, earlier in the day.
And the good news is that Hendrickson is returning very soon, for the Masters.  On his last visit he performed at Spann United Methodist Church in a kind of impromptu event. He is coming on April 9 to play his trumpet again, this time doing a couple of solo specials accompanied at the piano as well as a hymn-sing in which he joins in with his trumpet.
Anne Hughes of Fruit Hill Rd. in Saluda County, who is helping to organize the event, says they are working to choose hymns that are "strong, powerful numbers" to go with the trumpet.  Anne says that Steven's wife Virginia, who will be with him, has told the folks at Spann Church that "his greatest joy is in playing in a church service."
The public is invited to come for the service at 7:00, Wednesday evening, April 9, at historic Spann UM Church in downtown Ward.