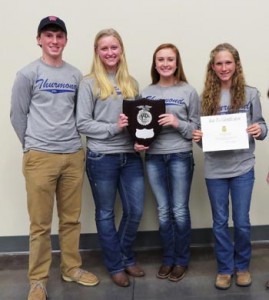 Students of the Strom Thurmond Career and Technology Center FFA Association spent their Thursday evening on March 06, 2014 on the campus of the Lexington Richland 5 Center for Advanced Technical Studies in Chapin South Carolina participating in the South Carolina FFA State Tool Identification Career Development Competition.  Students in the Tool Identification Career Development Event, earn the opportunity to demonstrate their technical and identification skills as it relates to tool identification and tool use from over 180 tools used across the agricultural industry.
Students tested their knowledge through a written tool usage exam with tools ranging from ear taggers to expansion shields and completed an identification exam of forty tools from their state tool list of over 180 tools.
Twelve teams from across South Carolina won the opportunity to compete for the title of State Champion by placing in the top three from their respective regions. The Strom Thurmond FFA chapter took home 2nd place honors.  Members of the Strom Thurmond team were: Carolyn Barrett Guess, Bailey Pedersen, Misty Henderson, and Jacob Painter.  Bailey Pedersen and Misty Henderson finished the contest with perfect scores.  Their advisors are Mr. Jeremy Brooks and Mrs. Darla Steele.  A special thank you to the Lexington Richland 5 Center for Advanced Technical Studies for hosting and sponsoring the Tool Identification event.
The National FFA Organization, formerly known as Future Farmers of America, is a national youth organization of 523,309 student members as part of 7,487 local FFA chapters in all 50 states, Puerto Rico and the Virgin Islands. The FFA mission is to make a positive difference in the lives of students by developing their potential for premier leadership, personal growth and career success through agricultural education. The National FFA Organization operates under a Federal Charter granted by the 81st United States Congress, and it is an integral part of public instruction in agriculture. The U.S. Department of Education provides leadership and helps set direction for FFA as a service to state and local agricultural education programs. For more information visit www.ffa.org, and follow us on Facebook and Twitter.
For more information regarding the agriculture program at the Strom Thurmond Career Center, contact Darla Steele or Jeremy Brooks at the career center, (803) 275-1767 or visit the agriculture program website at www.stromthurmondffa.com.