Mother sues school over son's death in fictitious case
Strom Thurmond High School (Team A) was named first runner-up in the S.C. Bar High School Mock Trial State Competition March 8 at the Matthew J. Perry Jr. Federal Courthouse in Columbia. N. Myrtle Beach High School won the state title.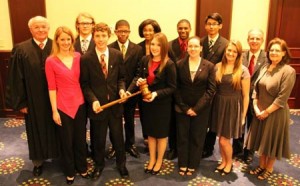 Participating students include Antonia Adams, John Gillespie, Jamarr McCain, Arturo Pineda, Grace Russ, Erin Sweeney, Royden Watkins and Keyson Whiteside. The teacher coaches are Denise Jackson, Steven McKinney and Kaitlyn Pugh. The attorney coaches are Blair Ballard Massey and Sen. Shane A. Massey.
Students presented the plaintiff and defendant sides of a fictitious case before a panel of local volunteer judges and lawyers. Additionally, students filled the roles of defendant, witnesses, bailiff and timekeepers. Each team was judged on its presentation skills, rather than the legal merits of the case.
This year's fictitious civil case was the Estate of Jordan Simon v. Terry Swift and Hilliard Academy. Jordan Simon, a senior track star at Hilliard Academy, died of a heart attack caused by steroid use. His mother, Kelly Simon, sued Hilliard Academy and Coach Terry Swift for negligence in Jordan's death. Hilliard Academy and Swift denied the claims and argued Kelly Simon was comparatively negligent in not discovering Jordan's steroid use. For more information about the Mock Trial case or program, visit www.scbar.org/lre.
The Mock Trial Program is sponsored by the S.C. Bar's Law Related Education (LRE) Division, which was developed in 1976 to improve the ability of teachers to instruct law related education.
The Mock Trial Program is made possible through a S.C. Bar Foundation IOLTA grant and the S.C. Bar.
The South Carolina Bar, which has a membership of more than 14,500 lawyers, is dedicated to advancing justice, professionalism and understanding of the law.