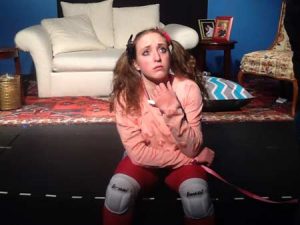 Sylvia, a name meaning "of the woods," in this case refers to a dog who radically interrupts the life of a New York couple looking for an awakening. The play opened this weekend to the delight of those looking for a laugh. An unusual role, Sylvia (the dog) is played by a fabulous talent, Korilyn Hendricks; who fantastically reveals the playful and dramatic antics of the canine order with gusto. The stage is never dull with her energies creating both leading and subtle humor. Her voice is heard only to the ear of her loving owner, Greg, played by the capable Tony Baughman.
The two become united after Greg finds Sylvia and brings her home to the apartment. Instead of becoming a loving addition to the couple (their children are grown and gone), Greg's wife, Kate, (played by the lovely Theresa Lambert) is thoroughly and rightfully troubled by what she sees as a ludicrous act for a middle-aged man. While Sylvia and Greg become passionately inseparable, things fall apart around them. Even the dog's boundless energy and vivacity cannot save mankind…or can it?
Realistically, Greg cannot spend hours with his dog and keep up with his wife and job. The career suffers first and Greg is found dedicating his time, passionately to the loving relationship he sees in keeping Sylvia happy. The park becomes a three way mirror for Greg's new life. Each time he visits there a new and funny twist to the odd affair arrives to his attention, with thanks to his new friend, Tom (Jonathan Thomas). Sylvia continues to entertain Greg to the maximum as her youthful and boundless energies both support and distract fun-loving Greg. Sylvia reminds Greg to meditate on the simple pleasures of life, and at times realize the primal realities as well. Poor Greg, in his quest to outsmart life, he does finally come to the comical epiphany that dogs are different than humans; no matter how close he feels to Sylvia. The struggles of life forgotten to him, Kate is soon finding herself alone and sinking her energies into her own career as teacher. This leads to an opportunity abroad which shakes the relationship to its core. What will happen to Sylvia?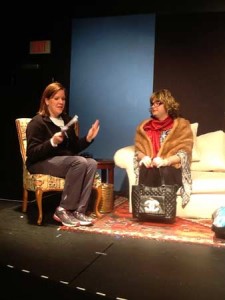 In the midst of the action we find the multifaceted talent, Jonathan Thomas, superbly playing three unique, and at times outrageous, personalities. While each of these characters attempts to offer advice to the struggling couple, through rather entertaining pathways (even the psychiatrist can't handle!), the most surprising changes come from within the apartment.
As much as anyone hopes to live the life they choose, the obstacles can be daunting and the three main characters learn to stop fighting each other's passions and instead, begin accepting the love they find in each other; even if there is a third wheel; a rather furry one. For all the laughs, Caroline Bland debuts as a first-rate directing talent. The skillful Bradley Watts supported the production as Assistant Director. Accurately timed lighting and sound is provided by Mitchell Bland. Set design and construction by Lynn Rearden; set building: Max Shanks.