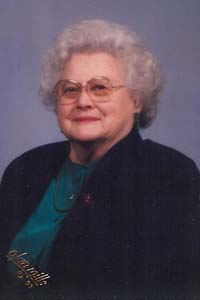 JOHNSTON, S.C. – Mrs. Vivian Thrift Proctor Edwards, age 95, passed peacefully and went to be with Jesus on March 7, 2014 at Edgefield County Hospital. She was born on July 27, 1918, to Lannie and Rebecca Proctor in Douglas, GA, at what is now South Georgia College, where her father was President. She and her sisters, Rebecca and Loraine, were raised by their mother in Cuthbert, GA, after their father died when Vivian was two years old.
Mrs. Edwards attended South Georgia Junior College and graduated from the University
of Georgia with a degree in home economics. Her first teaching position was in
Trenton, SC. Vivian married John Sawyer Edwards from nearby Johnston, SC, in 1940 where they raised three children. Her beloved husband, John, Sr., died July 25, 2004.
Vivian was very involved in education from being a supportive mother and president of PTA to teaching a pilot kindergarten program in Edgefield County. She taught third grade for many years and will be fondly remembered by her students. At Johnston First Baptist Church, she was an active member serving as Cradle Roll Director, Missions Treasurer, and member of Gleaners Sunday School class and Frances West Circle. She loved playing Bridge and Rook and belonged to several card clubs. Because of her love for flowers, she was actively involved in the Peach Blossom Garden Club.
Mrs. Edwards is survived by sons: John S. Edwards, Jr.(Cheré ) of Johnston and Dr. William B. Edwards (fiancée, Donna MacAleer) of Prosperity; daughter: Becky Edwards Hash of Chapin. She was a loving grandmother to Tad Edwards (Keri); Leslie Edwards Weikle (Scott); Anna Hash Studer (Scott); Thomas F. Hash, Jr. (Young) and John G. Hash (friend Kerri). Her nine precious great grandchildren are Becca, Garrett and Rachel Studer; Claire and Riley Hash; Lillian, Charlotte, and Blair Weikle; and Xavier Charles William Edwards. She was a special aunt to many nieces and nephews. Earnest Martin was her attentive caregiver and is a close family friend.
Private internment services will be held at Mt of Olives Cemetery followed by a Memorial Service on Saturday March 15, 2014 at Johnston First Baptist Church at 3 pm with Rev. Thomas Barwick and Dr. Charles Hattaway officiating. The family will receive
friends from 2 -3pm at the church prior to the service. Honorary guests for the service will be members of the Gleaners Sunday School Class and the Frances West Circle.
The family wishes to thank the nursing staff at Trinity Health and Rehab and at Edgefield County Hospital for their attentive and loving manner. We extend our deepest gratitude to Dr. Hugh Morgan for his compassionate care of our mother.
Memorials may be made to Johnston First Baptist Church, 700 Church Street, Johnston, SC, 29832. Bland Funeral Home is serving the Edwards family. A memorial message may be written to the family by visiting the website at www.blandfh.com.