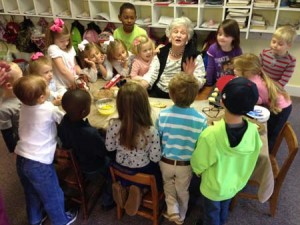 The day before Good Friday (Maundy Thursday), the four-year-olds in the God's Little Angels class at the First Baptist Church, Edgefield, were busy learning how to make Resurrection Muffins, under the guidance of classmate Mary Judith's grandmother, Judith Hamilton of Johnston. She guided them through the Easter story and what each part of the muffin recipe represented in that story.
The representations are: the marshmallow is Christ – pure and white and holy; the dough represents the tomb for Jesus; the butter represents the oils used to anoint Christ's body; the cinnamon and sugar represent the spices that were used in those days to prepare a body for burial (and those were myrrh and aloe).
Mrs. Hamilton, joined by teachers Linda Smith and Jo An Rhoden, noted that this is "an incredibly wonderful way to celebrate Easter morning – especially for the children. When "Christ" is enclosed in the "tomb" – all prepared with the oils and spices of that day – and the muffins are baked, then there is great joy and surprise when they are taken apart for they are empty inside. The "tomb" is empty, representing for the children that Christ has risen.
And here is the recipe for all to enjoy.
Resurrection Muffins
1 pkg. Pillsbury crescent dinner rolls
8 regular size marshmallows
¼ cup melted butter
Bowl w/cinnamon & sugar mixture
Preheat oven to 350 degrees and separate crescent rolls into individual triangles. In a small bowl melt butter and in another bowl mix cinnamon and sugar together (as you would for cinnamon toast). Dip a marshmallow into melted butter, then roll in cinnamon and sugar. Place marshmallow on wide end of triangle and wrap the dough carefully around the marshmallow. Pinch the seams together tightly to seal in the marshmallow. Place in greased muffin tin with narrow end on the bottom. Repeat until all muffins are prepared. Bake in 350-degree oven until golden brown – about 20-25 minutes.
Icing
1 ¼ cups 10x sugar
3 Tbsp. Milk
1 teaspoon clear vanilla or almond extract