April 7, 2014
Council works on $9 million budget
At last week's meeting, County Council took up first reading of the $9 million annual budget. We have worked to trim the budget, find money-saving alternatives to some work, fit in needed work, and saved money along the way.
Let's look at some specifics that might interest you.
First, the Council is working on a budget that does not raise taxes for the fourth year in a row. To remind you of what that looks like over the past 20 years, here's a chart. To look at how much you pay in Edgefield County taxes and fees (I included taxes and fees so you'd get a more complete picture), I want to show how much a person would pay in taxes and fees on a $100,000 house.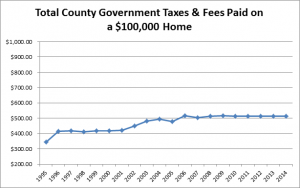 As you can see, we continue to be good stewards of taxpayer dollars.
In this budget, we are proposing several important things:
·         A 1.5% pay raise for employees
·         We're counting on our Reserve Funds – our rainy day fund – less than we did last year to balance the budget. In addition, if we spend every penny proposed in this budget, and if we spent $300,000 on building the animal shelter, that would still leave more than 3 months of money in reserves.
·         We bring several Department Heads/Other Elected Officials salaries in line with the state's averages for those positions.
·         We included funds needed to replace computers, perform needed repairs on county buildings, and are putting aside money for a retrial on a capital murder case.
There's a lot more to the budget, of course. I encourage you to go to the Edgefield County Government website and review the budget for yourself.
As always, County Council wants your input on the budget. I look forward to hearing from you!
Until next time,
Dean Campbell