12,000 lbs. of Food to 326 Families
The Edgefield Food Bank distributed over 12,000 lbs. of food to 326 families Saturday. The total number of people affected in the county was 858, including 266 seniors and 263 children.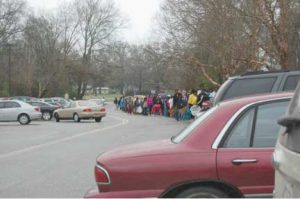 People began lining up at 8:00 am for the 10:00 am give-away. We were expecting 200-250 families to participate. This number was far exceeded, which demonstrates the true need for this service in this community.  James Coleman stated: "We have been giving food out for over 8 years and will continue. Based on the data from Feed America, over 17 percent of the families in Edgefield run out of food on a monthly basis. Our goal is to help feed the needy and insure no one in Edgefield County goes hungry."
The Edgefield Food Bank, with the cooperation of the Golden Harvest Food Bank Mobile Food Pantry, would like to thank the following for the successful food give-a-way: The Town of Edgefield, Edgefield Police Dept, Edgefield Fire Dept, Edgefield Daily, Edgefield Advertiser, Piedmont Technical College, and the Edgefield Food Bank Volunteers.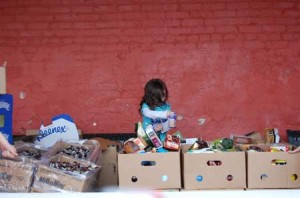 The Edgefield Food Bank is a Non-Profit Organization which relies on donations to operate and donations tax deductible. If anyone would like to contribute, please mail contributions to: Edgefield Food Bank, PO Box 55, Edgefield, South Carolina, 29824. "With your help, we can help feed the hungry in our county," stated Coleman
Anyone having questions, please call Keith Coleman at (803)336-8604 or James Coleman at (803)637-3536. Submitted