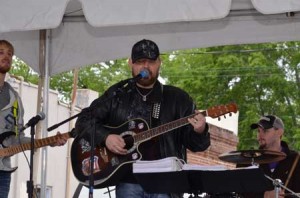 The Johnston, S.C., Peach Blossom Festival entertainment for the day is now set, with a variety of performers headlining the May 3 event.
The day's entertainment begins at 10 a.m. with a performance by the Johnston Elementary School Chorus. At 10:30 a.m. the traditional parade begins. Once the parade ends, Johnston Mayor Terrence Culbreath will give the welcome at 11 a.m. At 11:05 is a performance by Southland Express Cloggers.
The rest of the entertainment for the day includes Christian band Seventh Vessel Ministries, singer Marcedes Long, singer Cody Webb, Synergy Martial Arts Center, and the day of on-stage entertainment ends with a fishing tournament weigh-in.
The fishing tournament is new this year. The tournament begins at 6 a.m., May 3, when the participants begin fishing. There is a $500 prize for first place.The entertainment is free and concludes about 4 p.m.
Last year, thousands of patrons descended on Johnston to enjoy the day set aside to honor the peach industry, which has been so important in the development of the area.  Each year, the Town goes all out with the Festival to remind citizens about the peach industry and to open its arms to visitors.
The popular Festival is taking applications for individuals, organizations or businesses interested in being a part of event in the areas of: Arts and Crafts (803-480-7386); parade (803-275-0438).
In addition to the areas listed above, the Festival also has a Friday, May 2, street dance in downtown Johnston, designed especially for families. Steele Justice, a popular local band, will provide the entertainment.
This year's Johnston Peach Blossom Festival Dance Sponsors are Titan Farms and Dr. Hugh Morgan Family Practice.
This year's Johnston Peach Blossom Festival Corporate Sponsors are Edgefield County Hospital, First Citizens Bank, IGA, J.W. Yonce and Sons, NAPA, Northland, SCE&G and SRP Federal Credit Union.
For more information on the Festival, please contact Debra Aston, (803) 275-2345.