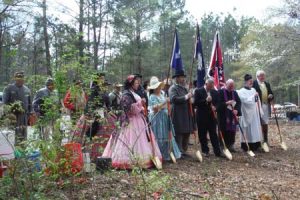 A beautiful Sunday afternoon it was, with the new-green of leaves appearing on the trees and a wooded backdrop of dogwood in bloom, as Horn's Creek Church was filled to capacity for a service of rededication and resolve – to bring back to its early, habitable shape the oldest ("believed to be" according to Historian Bettis Rainsford) building in Edgefield County. And next to the church is the promise of a house — living quarters for someone to watch over the church and grounds where rampant vandalism, to graveyard and to church building, has continued for many years. This was Sunday afternoon, April 13.
As Rainsford gave the history of the surrounding area, it was easy to imagine the earliest settlers, before the church was built, leaning on the vigilantes to help bring order to an upcountry wilderness without government. The mention of Revolutionary skirmishes further underscored the Horn's Creek Community's importance; the church was organizing at this time and Rainsford dates this building c. 1784. Only Hardy's Church of c. 1772 is older (their original building was torn down and removed some years ago).
President of the Historical Society Billy Benton praised members for their work in getting the house plans drawn (by Bettis himself, he said) and a loan executed so that the groundbreaking was for a very real plan that has begun already.
In the words of our correspondent Vernon Miller: "Your correspondent was one of 153 members and guests who attended the spring meeting of the Edgefield County Historical Society. . . Bettis Rainsford gave a brief history of Horn's Creek Church. An impressive Palm Sunday service, led by The Rev. Tom DiMarco, [The Rev. Barry Cannon and The Rev. Stacy Williams], followed. As the music played and the congregation sang old familiar hymns, one could imagine the members of yesteryear looking down and smiling with approval that once again there was music in the grand old church. Afterwards everyone was invited to a delicious 'summer supper.'"
And might we add: the supper came following a period of cannon roar, produced by the special "forces" of the Confederate Volunteers, as smoke filled the woods and blasts resounded in the ears. These volunteers provided a realism to the day of pageantry.