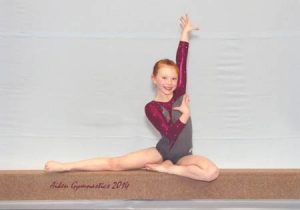 Brantley Johnson, daughter of Spence and Lynn Johnson of Johnston and a second grader at Wardlaw, won State Champion in four categories of Level 3 at the South Carolina gymnastics event in Columbia, April 4-6. She is a member of Aiken Gymnastics.
Her performance included five separate categories: Vault (scored 9.675), Bars (scored 9.675), Beam (scored 9.075), Floor (9.900 and AA (38.325). All but the Beam gave her State Champion scores.  In Beam she placed third.
Kudos to this young athlete who at such an early age has represented her community and her athletic group with a sterling performance.