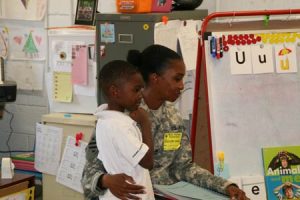 On Wednesday, April 2, Amman Hill's mother, Yolanda Hill, a Master Sergeant in the U.S. Army, came to his kindergarten class at W.E.Parker Elementary School to surprise him with her arrival home from her deployment which took her from him for over a year. While she was away, W. E. Parker Elementary had sent her a care package and she was able to thank the class and the school for this. She brought them a gift, an American flag that had flown over the city of her deployment. MSG Hill was then presented a special painting that Amman had created using his hands to make an American flag. The class and teacher, Mrs. Shealy, also presented her with an album of paintings of the American flag done by the class. Her proud mother Annie Bell Hill had orchestrated the surprise visit. She and her husband Willie Hill care for Amman while his mother is away.  More about Msg. Hill follows.
Master Sergeant Yolanda Hill is a native of Edgefield. She is a 1996 graduate of Strom Thurmond HS and has a Bachelor of Arts Degree in Psychology from Ashford University.  Msg. Hill has been in the United States Army for 12 years.  During these years she was a drill Sergeant at Fort Jackson in Columbia for two years, where she was voted Drill Sergeant of the Cycle.  Within these 12 years Msg. Hill has received numerous awards and recognitions among her accomplishment during her military career was graduating at the top of her class as the distinguished honor graduate of the senior Leaders Course for Automated Logistics Specialist.
Msg. Hill has been deployed in support of Operation Iraq: Freedom, Operation New Dawn and Operation Enduring Freedom.  She has just returned from another deployment. She has just returned from another deployment.  She is currently stationed at Shaw Air Force Base in Sumter, S.C., with the U. S. Army Central.
Msg. Hill is the granddaughter of the late James and Sallie Williams and Emma and the late James Hill all of Edgefield.  She is also the daughter of Willie and Annie Bell Hill of Edgefield.
Her son Ammar Hill, a kindergartener at W.E. Parker Elementary School, saw her for the first time since her deployment, Wednesday morning.