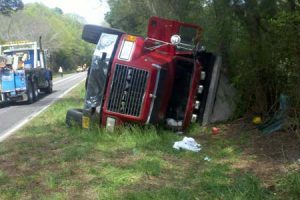 An overturned dump truck tied up traffic on Hwy 23 West for over three hours Friday afternoon, Apr. 11.  According to sources at the scene, after getting off route around three o'clock in the afternoon, an out-of-town truck pulling a horse trailer was trying to turn around at the site of Sandy Oaks Rodeo when a dump truck rounded the curve at the scene.  To avoid hitting the truck and trailer and other vehicles, the dump crashed into a ditch.

The driver of the dump truck sustained what was believed to be a broken shoulder from the accident, but there were no other injuries reported.  The dump truck driver was transported by EMS to a nearby hospital.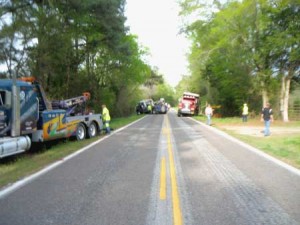 Westside, Merriwether, and Edgefield Fire Departments responded to the scene as well as law enforcement including highway patrol and the transport police.  No word was available as to whether there will be any charges filed in this incident.  The dump truck was removed from the scene a little after six, and traffic flow returned to normal.