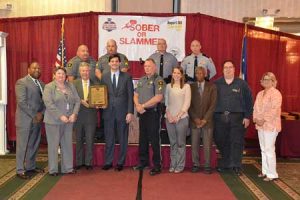 The SC Department of Public Safety (SCDPS), joined by the South Carolina Department of Transportation (SCDOT), recognized Edgefield County officials during an awards ceremony as the first ever "Target Zero Hero" Wednesday for their traffic safety accomplishments in 2013. Edgefield County recorded 445 consecutive days without a traffic fatality, including the entire calendar year of 2013.
SCDPS Director Leroy Smith and SCDOT Acting Secretary Christy Hall presented a plaque to law enforcement officers, county officials, area coalition members, and elected representatives from Edgefield County to commemorate their achievement. The county received the accolade "for outstanding achievement in highway safety and in recognition of zero traffic fatalities for the year 2013." The award was presented during the 9th Annual DUI Enforcement Recognition and 2013 Law Enforcement DUI Challenge Ceremonies, held Wednesday, April 2, at Seawell's Banquet Center in Columbia.
"The success in Edgefield County was amazing," said SCDPS Director Leroy Smith. "These results were achieved through innovative strategies, proactive enforcement and partnerships with the community."
The Target Zero initiative was launched by SCDPS in the fall of 2012. Target Zero is aimed at eliminating traffic fatalities in South Carolina, recognizing the only acceptable goal for lives lost on our highways is zero. Edgefield County was the only county to record zero traffic fatalities in 2013, and the first county to do so for a full calendar year since Barnwell County saw zero highway deaths in 1993.
In 2013, South Carolina experienced the second lowest number of traffic fatalities in 50 years, falling below 800 persons killed for only the third time since 1963.