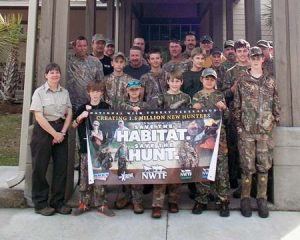 David Wamer, NWTF Georgia save the hunt coordinator, worked with refuge staff and volunteers from eight chapters in Georgia and South Carolina, to create a weekend of wildlife and conservation education, paired with firearm safety and hunting. The National Wild Turkey Federation (NWTF) and the Savannah National Wildlife Refuge recently hosted youth hunters for the first ever Youth Hunt & Learn Weekend – Turkey event.
"The goal of this event and part of our Save the Habitat. Save the Hunt. initiative is to build the next generation of hunters," said Christine Rolka, NWTF education director. "The youth hunters learned a lot, and I believe they will be hunters and conservationists for life."
The educational programs for the weekend included Turkey Hunting 101, a course in turkey biology and habitat as well as hunter safety.
The attendees, all first time visitors to the refuge, also received a tour of the nearly 30,000-acre refuge that is home to wild turkeys, bald eagles, neo-tropical migratory songbirds, large concentrations of wading birds and migratory ducks and American alligators.
In addition to the youth and the volunteers, a representative from the Okefenokee refuge attended the event. They are considering working with the NWTF to host similar events in their area.
The NWTF Save the Habitat. Save the Hunt. initiative is a charge that mobilizes science, fundraising and devoted volunteers to give the NWTF more energy and purpose than ever. Through this national initiative, NWTF has committed to raising $1.2 billion to conserve and enhance more than 4 million acres of essential upland wildlife habitat, create at least 1.5 million hunters and open access to 500,000 acres for hunting, shooting and outdoor enjoyment. Without hunters, there will be no wildlife or habitat. The NWTF is determined to Save the Habitat. Save the Hunt.