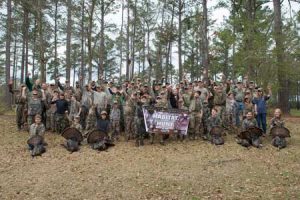 On March 29th The Edgefield Chapter of the National Wild Turkey Federation along with many volunteers hosted a "Mentored Youth Turkey Hunt".  This event  not only gave boys and girls who might not ordinarily have the chance to hunt the experience of hunting, but also to be paired with a seasoned turkey caller to learn the importance of  "Save the Habitat Save the Hunt."
All mentors, parents/guardians and 21 youth gathered at the NWTF for a pizza dinner where they enjoyed a presentation of Turkey Hunting 101 and were introduced to their mentors for Saturdays hunt.
After hunting Saturday morning everyone returned to the NWTF for a Bar-B-Q lunch where the youth shared their  "turkey tales".  There were 9 turkeys harvested and a lifetime of memories made.
A special thanks to the land owners who provided property for the hunt, and to Dale Cullum for organizing the event as well as all the volunteers, mentors, and hunters who made the first "Mentored Youth Turkey Hunt" a huge success.