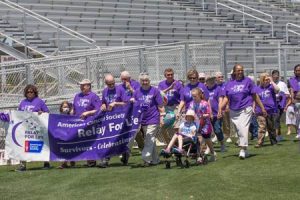 Over 60 survivors of cancer registered for the Relay For Life fundraising event of Saturday, April 26, with 500-700 attending, a large number and such a beautiful day. There were 18 teams participating, according to one of the chiefs of this event, Lynn Rearden,
Ms. Rearden and her co-hort in leading this 11th year of fundraising for a cure for cancer, Sharen Fay, expressed a big Thank-You for all the participation which brought dollars in for the fight against cancer. The total amount raised will be published in August, when the year of fundraising comes to a close.
Winners of the contests are: Best Theme, Edgefield First Baptist "Fighting for a Cure, Makes me Happy, Happy, Happy"; Best Decorated Site was Douglas Elementary "Lifesavers"; Most Money Raised was Merriwether Elementary; Spirit of Relay was Merriwether Elementary; Most Money Raised by a youth was Cameron Morgan; Golden Spatula (Best Food) was Republican Grove Baptist Church Fried Fish Sandwiches.