OPINION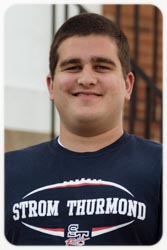 – By G. Miller Thompson –
A couple of weeks ago the nation celebrated National Teacher Appreciation Week.  This is the week on which the National Teacher Appreciation Day occurs.  Now, this "national day" thing is getting out of hand.  There is a national day for squirrel appreciation (January 21), strawberries and cream (May 21), National Be Late for Something Day (is this a valid excuse for missing class September 5?), and the list goes on.  Teacher appreciation, however, should occur on more than just one day or one week each year.  In most any instance you hear a success story you can thank a teacher.
Teaching is a thankless profession.  I am not a teacher, but I owe my success to a list of them.  It has been said that "education is the transmission to civilization."  A vehicle without a functional transmission is of no use to anything except maybe a salvage yard.  Likewise, a nation without a functional education system is of no use to anything except maybe a dictator.  One of the greatest gifts a young person can receive in modern society is a solid education.
Strong education infrastructure within our nation is integral to seeing a revitalized America.  We cannot have this infrastructure without rock star educators.  Edgefield County is blessed to have several educators of this caliber.  I know because I have been in their classes.  I have listened to their lectures.
Sure there are some duds.  It takes more than simply showing up and babysitting a class to be an effective teacher.  It takes a special person to be one of those rock star educators I mentioned earlier.  I am troubled to hear individuals pursue a career teaching for no other reason but "it is a job."  Teaching is not a career field for just anyone.
Educators carry the weight of society's success.  These individuals interact with the youth of America on a day-to-day basis.  By no means are teachers responsible for parenting (at least of children not their own), but they hold a unique position in students' lives.
Young people today have a severely botched perspective of what it means to be a role model.  This next part is particularly important for individuals age 5-18:  Stop looking up to Beyoncé, Miley Cyrus, and Justin Bieber.  Instead, find a good teacher and look up to him or her.
This school year is coming to a close, but a teacher's work is never done.  Picture someone you know who has taken on the great task of teaching.  Whether it is your neighbor or a teacher that had a great impact on your life, thank them.  Not just on Teacher Appreciation Week, but anytime you see them.  To all those who have impacted my life over the past decade and a half, thank you.  Your influence has been indescribable and I will not let you down.
—
The views and opinions expressed here are those of the author and do not necessarily reflect those of The Edgefield Advertiser.
Have something to say? Please leave your comments below.