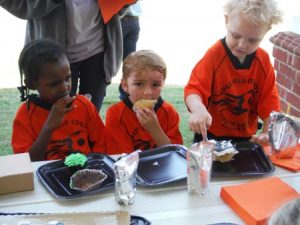 The Edgefield County Youth Soccer Association ended yet another exciting season, Saturday, May 17, with their traditional end-of-season tournament. This year's spring season saw over a hundred area children participate within the three age divisional levels; 3-5 division, 6-8 division, and 9-12 division. Season winners in each of the two upper divisions also went on the claim victory as Tournament Champions at Saturday's event. They were, in the 6-8 division, the Wildcats, coached by David Caddell, and, in the 9-12 division, the Wildcats, coached by Raymond and Janette Ouzts and Danny Perez.
As with all county recreational sports, the ECYSA is a volunteer driven organization. To that end, the ECYSA wishes to thank all the coaches who gave of their time and skills to make this season a success. They thank, also to the parents, and especially the players, who are the heart of the soccer league.
The ECYSA looks forward to the coming fall season. Parents and players can begin looking for registration for this season shortly after the beginning of school in August.