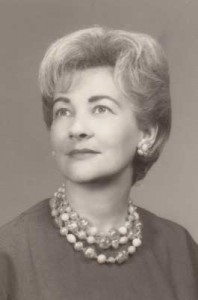 COLUMBIA, S.C. – June Hylton Timmerman, 87, of Columbia, died Saturday, May 17, 2014.  Born June 11, 1926 in Roanoke, Virginia, she was a daughter of the late Walter Hylton and Purnell Morris Hylton Harryman. June graduated from Anderson College, SC and attended the Oregon College of Education. She began her teaching career in Alabama before marrying her beloved Clemson cadet and best friend, John A. Timmerman. She founded The Timmerman School in Columbia in 1954. In the 1960's and 70's, June hosted the ETV children's show "The June Bugg Show". She educated thousands of children over the course of her 60 year career. On March 11, 2005, Mrs. Timmerman was awarded The Order of the Palmetto by Gov. Mark Sanford.
June was a devout Christian and long-time member of Shandon Baptist Church. She also was an active member of the Jr. Women's Club, where she was an annual favorite in the "Red Stockings Revue". Philanthropy was her life. June sent countless young women from the Appalachian area to secondary education, provided educational opportunities for children at Carolina Children's Home, and helped and supported anyone who was in need. She especially enjoyed preparing complete Christmases for needy families.
Survivors include her husband of 69 years, John Albert Timmerman; daughter, Liz Jordan (Steve) of Edgefield, SC; son, John A. Timmerman, Jr. of Lewiston, NY; grandsons, Baker Leigh (Charity) of Aiken, SC, Ryght Jordan (JoAshley) of Edgefield, SC, Vann Jordan (Ashley) of North Augusta, SC; granddaughter, Paige Pennington (Rick) of Blacksburg, SC; great-grandchildren, Kendall, Zane, and Xander Leigh, all of Aiken, SC, Hannah, Ethan, and Abby Pennington, all of Blacksburg, SC, William Ryght Jordan of Edgefield, SC; sister, Martha Gregory of Wilmington, NC; half-sister, Judy Lawhorne of Lexington, VA; half-brother, Chris Hylton (Gail) of Fredericksburg, VA; son-in-law, Jim Leigh of Blacksburg, SC; a host of nieces and nephews; and her beloved English Bulldog, "Petey", who brought her so much comfort. In addition to her parents, June was preceded in death by her adoptive father, Gaylord B. Harryman; daughter, Beverly Leigh; sister, Waltine Fondren; and half-sister, Sandra Hatcher.
A memorial service for Mrs. Timmerman will be held 3 o'clock, Tuesday, May 20th, at Shandon Baptist Church, 5250 Forest Dr, Columbia, with The Rev. Barry Gray and The Rev. Jerry Long officiating. The family will greet friends following the service in the Gathering Place.  Current faculty and staff of Timmerman School are invited to serve as honorary pallbearers. A private burial in McKendree United Methodist Church Cemetery, Edgefield, SC will be held at an earlier time. In lieu of flowers, memorials may be made to The Scleroderma Foundation, 300 Rosewood Dr, Ste 105, Danvers, MA 01923; or to Anderson University Scholarship Fund, 316 Boulevard, Anderson, SC 29621; or to the Smile Train, PO Box 96231, Washington, D.C. 20090-6231.
In addition to her husband, her devoted caregiver, the family would like to thank Helga Shobert for all her years of constant care and love; special friends, Earline Suydam and Marie Askins; the teachers and staff of Timmerman School; sitter, Lisa Bryant; sitters, Phyllis Kinman and Betty Jean Brown from Daybreak; and all the nurses and NT's from 6th and 4th floors at Providence Hospital.
Memories and condolences may be shared at ShivesFuneralHome.com.