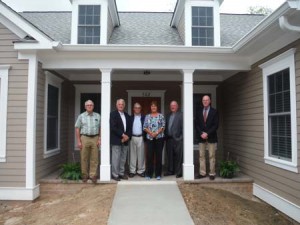 Edgefield United Methodist Church held Open House at their new parsonage on Buncombe Street, Edgefield. The home is placed on property the church bought under the leadership of the late Dr. Ned Nicholson. It was known as "Four Square" by the family selling the property, and now holds a beautiful home, almost fully furnished, ready for occupancy from a visitor's viewpoint.
It holds new furnishing in the guest bedroom, the living room, dining and breakfast room area, and den. As of Sunday, the master bedroom holds no furnishing, but sports a magnificent bath. As someone pointed out, the bathroom doors measure correctly by the recent new standards – large enough to make way for a wheel chair.
Upstairs is a huge room, called by some of the ladies a "dorm room" which would be ideal for children Several members noted, because they get new ministers every so many years, dictated by the Methodist officials, they hope the home will be an enticement for a family with children in time to come. It has been awhile since the Methodists have had a young parent as minister.
Beautiful hardwood floors shone under rugs. The one in the living room space was a compliment to the pecan wood mantel, created for the house. A pecan tree in the yard of the church had to be taken down. The wood was transported to Mack Morgan, a local, skilled woodman who planed boards from the tree for use in the mantel as well as the minister's study. In the study is crown molding of the pecan wood as well as shelving for books and wainscoting.