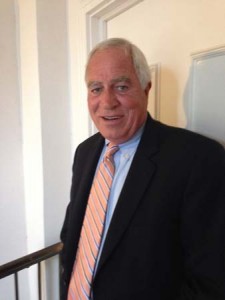 24 Years of Service as P. Judge
Last week Bobby Peeler gave to this newspaper his formal announcement of his intention to seek re-election for the position of Probate Judge of Edgefield County. He sat with us for a brief interview.
Peeler is currently serving his twenty-fourth year as Probate Judge of this county.
Bobby Peeler spoke of his personal life and education.  "I am a life-long resident of Edgefield County and a graduate of Storm Thurmond High School.  I hold a Bachelor's Degree from Clemson University with graduate studies from the University of S.C. in Public Administration." He is married to the former Millicent Smoak who taught in the Edgefield County School System for thirty-two years before retiring.  They have two daughters, Kara Peeler of North Augusta and Marie Peeler Sease and her husband Tyler of Greenville, S.C.
In addressing his past history in the job as Probate Judge, Peeler commented: "For the past twenty-four years, I have consistently met and maintained the efficiency of the Probate Court as required by the South Carolina Supreme Court and have been recognized numerous times for this service and dedication."  He went on to say that in 1995 he was elected as President of the S. C. Association of Probate Judges and most recently recognized by the S. C. Association of Countywide Elected Executives for "service and dedication to your fellow man" and "selfless work."
Peeler is very proud of his staff and expressed that "the most extensive revamping of Probate Laws [since 1987] took place in January of this year, and my staff has been working hard to absorb all of these new laws and make them available to the citizenry through training and by taking the information home at night to study."
Addressing, in a more personal way, his manner in conducting business, he noted that he strives to uphold a court that is "user friendly," fair, and compassionate towards anyone seeking the court's assistance. "Issues arising in the Probate Court including mental health, drug addiction, alcohol addiction, dementia and other debilitating diseases related to aging or death do not distinguish among race, gender, or political party affiliation," he strongly noted.
His appeal to the electorate is: "Please help to maintain the standard of service in the Probate Court that the citizens of this county have experienced over the past 24 years by supporting me, Judge Bobby Peeler, in the Democratic Primary on June 10, 2014."