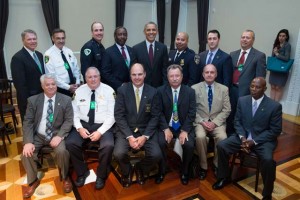 Law enforcement leaders, including Edgefield County Sheriff Adell Dobey, met with President Obama Tuesday, May 13th, 2014, to discuss Immigration Policy and the urgency for Congress to vote on Commonsense Immigration Reform.
Forty (40) law enforcement officials from across the country (only two from South Carolina) met with President Obama, Department of Homeland Security (DHS) Secretary Jeh Johnson, and other senior officials for a briefing and discussion on how Commonsense Immigration Reform will help law enforcement better serve and protect their communities, and the critical role of law enforcement in the current national dialogue.
Sheriff Dobey stated that it was an honor to meet the President and Senior Staff, and be able to voice his concerns on the issues at-hand in Edgefield County and the State of South Carolina.
Illegal immigration brings the threat of crimes with it. Crimes that are important to law enforcement and citizens alike include: Drug Trafficking, Organized Crime, Counterfeit Documents, Numerous Traffic Offenses, Human Trafficking for Sexual Exploitation, Violent Gangs, and other crimes.
Edgefield County Sheriff Adell Dobey also said he is proud of the relationship the sheriff's office has with Immigration and Customs Enforcement (ICE). ICE agents are responsible for monitoring crimes, and the deportation of illegal immigrants that have violated our laws.
President Obama stated, "Your voices are critical…Law Enforcement support lends the issue great credibility."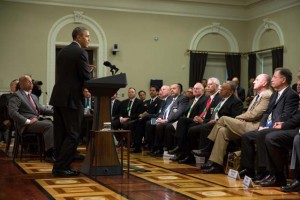 White House officials at the meeting also included DHS Assistant Secretary Alan Bersin, DHS Deputy Secretary Alejandro Mayorkas, White House Domestic Policy Council Member Cecilia Munoz, and Assistant Attorney General Tony West.