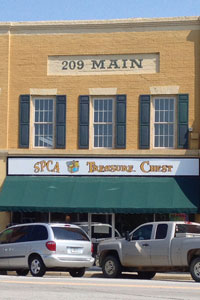 It's End is Definite This Time
– By Tiffani Ireland –
Treasure Chest, the Society for the Prevention of Cruelty to Animals' (SPCA) thrift store, is leaving Edgefield. Martha MacDonald, manager of the store, confirmed the store's closing saying she is "heart broken." She went on to thank the "wonderful, wonderful customers" that have faithfully supported the store and said she would like to see such a store return to the area in the future. The final day of business for the store is Saturday, May 31.
This is not the first time the SPCA has threatened to shut the doors of the Treasure Chest in Edgefield, although this time its demise does seem imminent. The Advertiser reported in August of last year that the store was set to close in February of this year if it failed to start turning a profit. At that time, Barbara Nelson with the SPCA told The Advertiser that the store was "breaking even at best."
When word was again received of the Treasure Chest's closing, The Advertiser made repeated calls to the SPCA's Aiken office for official comment on the closing, but those calls were never returned. However, Ms. MacDonald did confirm that the reason for the store's leaving is in fact financial, saying the store was losing money. She said that the store has been unable to cover expenses and as a result the SPCA's animal shelters were having to cover for the store's losses; this of course, being counter to the purpose of the organization's thrift stores. Unfortunately, Edgefield is not the only area town to see its SPCA store close. The organization recently closed their North Augusta Treasure Chest, as well.
While Ms. MacDonald was clearly saddened by the store's closing, she is making the best of it, especially for those "wonderful customers." She said that for the remainder of the Treasure Chest's final week customers will find everything in the store 75% off.