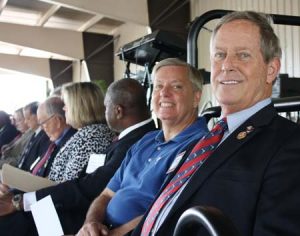 Aiken Electric Cooperative, a Touchstone Energy Cooperative, celebrated 76years during its annual meeting Saturday, May 17th, 2014. A total of 3,819 member-owners registered and family members enjoyed the many festivities.
Three incumbent candidates for the Board of Trustees were re-elected during the Annual Meeting. They were: Theo R. Williams, Trustee District No. 2; Linda S. Bramlett, Trustee District No. 5 and V. Wayne Furtick, Trustee District No. 7.
The 2014 meeting included members signing up for Action.coop.  The Take Action movement is a national, statewide and grassroots attempt to alert cooperative members to the Environmental Protection Agency's (EPA) new proposed restrictions on coal-fired generation plants. In his remarks to the members at the annual meeting CEO Gary Stooksbury stated "EPA's proposed restrictions on coal-fired generation plants that could cause electric bills to increase by up to 50 percent. We need you to help us send a message to the EPA that we want to keep power affordable and reliable."
Special guests in attendance included: US Senator Lindsey Graham and Congressmen Joe Wilson; Senators Tom Young and Shane Massey; Representatives Roland Smith, Bill Taylor and Don Wells; Aiken County Council members Kathy Rawls and Willar Hightower; Aiken County Treasurer Charles Barton; Burnettown Mayor C. H. Williams. Also attending were Strom Thurmond, Jr., Solicitor; and Will Williams, Director Economic Development Partnership.
Women Involved in Rural Electrification, (WIRE), provided refreshments for the attendees, and the 2014 entertainment Preston and Weston featuring Sandra Simmons delighted the audience with classics and new favorites. Rep. Joe Wilson led the annual meeting's Pledge of Allegiance. Senator Lindsey Graham addressed members on local and statewide issues.
Displays included Aiken County United Way agencies; a "Help My House"on-bill finance program; indigenous reptiles and wildlife from the Savannah River Ecology Lab; a hydrogen truck from the Advanced Research Center (ARC); and a Chevy Volt from Central Electric Power Cooperative. Activities for the day also included face painting, a health fair, unique balloon made by Tom Brandner (alias Cat in the Hat), Shepeard blood mobile, computer recycling drop-off, and meet our linemen. One hundred and ten members signed up for Aiken Electric's Operation Round Up program, where revenue from rounding electric statements up to the nearest dollar has resulted in more than $500,000 distributed to community members in need.
In keeping with Aiken Electric's annual meeting policy, after registering, members do not have to be present to win the grand prizes or special door prizes.
Aiken Electric Cooperative awarded two grand prizes this year: First Assembly of God church won the John Deere lawn tractor from Derrick Equipment and Rubena Kemp won a $1,200 electric service credit.
Aiken Electric, a Touchstone Energy cooperative, is a not-for-profit, member-owned utility that strives to provide reliable, competitively priced energy and other services desired by their members. The co-op serves over 45,000 customers in a nine county area.