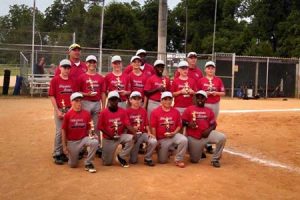 Edgefield County 11-12 year old All Stars won the District 3 Tournament in Ridge Spring.  The tournament started Friday, June 20, when Edgefield County defeated Mid-Carolina 11 – 2.  Saturday, EC defeated Abbeville 11 – 1 in five innings.  Sunday, EC defeated Saluda 11 – 1 in 5 innings.  EC had a bye Monday night.  Then EC defeated Mid-Carolina 3 to 2 Tuesday night.  The final game was tied going into the bottom of the 6th (last inning), and EC got one run to win 3 to 2.
For the first time, Edgefield and Johnston combined to form one All Star team this year.  This is the third straight year that the 11-12 year olds from Edgefield have gone to the state tournament.  The previous two years they played in the Majors division of the tournament.  This year they are playing in the "O" Zone division.
James "Fish" Herrin is the manager, and John Brown, Jr. and Dale Williams are the coaches.  The team members are KJ Butler, Hunter Corley, Michael Feagin, Reid Gossett, Garrett Hammond, Rhett Jolly, Colby Martin, Kevin Ortega, Brycen Patterson, Robert West, Dalton Williams, and Keithmontrez Williams.
The State Tournament will be held in Hartsville July 11-17.