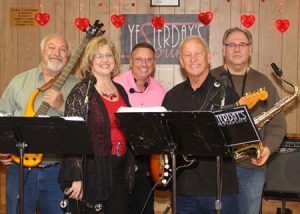 Excellent live entertainment is coming to the 44th Trenton Ridge Peach Festival.  John Olsen (SuperProSound), and Billy Williams (Billy's Superstore) have arranged some outstanding bands, singers, dancers, and musicians for the weekend of the festival, Friday evening and Saturday all day, June 20-21.
WJBF will be welcomed to start things off on Friday evening, at 5:00.  There will be 90 minutes of live television, with activity all around in the park.  Plan to be with at the park for "Praise in the Park" beginning at 7:00 p.m. The line-up of entertainment on Friday night includes Ebenezer Baptist singers, Hillary Family singers, Stacy Williams and Matt Herring of Edgefield First Baptist, Hi-Cotton and Randy Bradley.
On Saturday there is a list of special talent that Olsen and Williams have chosen for attendees to enjoy.  They include Oldies, Classic Country, Blue Grass, New Country, Saxophone, vocals and Beach Music – all day from 9:00-4:00.  As guests amble throughout the park, under the great spread of shade trees, they will hear the music broadcast and can come to the stage and sit a spell to enjoy fine entertainment, while resting.
And don't forget the parade! That is at 10:30, one of the best ever, with Allison Skipper, Bill Edwards, and James Bo Gardner in charge. The Fort Gordon Signal Corps Band will be there and will present a special program from noon to 12:30, after the parade.
The full schedule of music and events is listed below. Don't forget to get The Advertiser's special Peach Edition (published 6/18) which will include stories about Trenton and its people, a keepsake for readers and subscribers.
Friday June 20
5:00-6:30              WJBF—Channel 6—"Hometown Trenton"
"Praise in the Park", Friday evening, June 20, 2014, 7:00-9:00
7:00                            Opening Prayer
7:10-7:30                  Ebenezer Baptist Church Singers
7:30-8:00                  Hillary Family Singers
8:00-8:30                 Stacy Williams and Matt Herring, First Baptist Church, Edgefield
8:30-9:00                  Hi-Cotton
9:00-9:30                  Randy Bradley
Saturday, June 21
Peach Festival, Saturday, June 21, 9:00-4:00
9:00-9:30                              Brooke Lundy                                  Solo
9:30-9:50                              James Bo Gardner                          Saxophone
9:50-10:30                            OMG!                                                 Country Rock
10:30                                     Parade
Allison Skipper, Bill Edwards, and James Bo Gardner
11:30                                     Introduction of dignitaries
12:00-12:30                         Fort Gordon Signal Corps Band
12:30-1:00                            Yesterday's Sounds                        Oldies, Classic Country
1:00-1:30                              Rhythm & Class                               Clogging
1:30-2:00                              Cody Webb                                       Country
2:00-2:30                              One Step Ahead                              Blue Grass
2:30-3:00                              Ace of Clubs                                      New Country
3:00-3:30                              Rhonda McDaniel                           Beach
3:30-4:00                              Atomic Road                                    Classic Rock