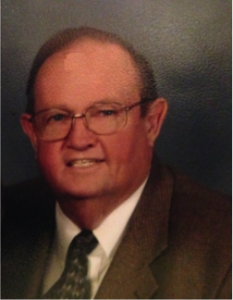 HUNTSVILLE, Tx. – Grover Clarence Talbert, age 82, died June 10 in Huntsville, Texas. He was born January 6, 1932, in Edgefield County, South Carolina. He was the first son of Grover Clarence Talbert, Sr., and Helen Aileen Byrd Talbert. He was preceded in death by his parents and only brother, Dr. Robert E. Talbert and his wife Jane Talbert. He graduated from Edgefield High School and received a Bachelor of Science degree from Newberry College, Newberry, South Carolina. He received his Bachelor of Divinity degree from Southwestern Baptist Theological Seminary, Fort Worth, Texas.
Grover answered to many names in his life: Grover Junior, Brother T., Mr. Grover, Preacher, and his favorites Pastor, PawPaw and Grandpa. At Ridgecrest Baptist Assembly, near Black Mountain, North Carolina, he met his wife of 58 years, when they served on the summer staff – he for three years, she for two. He also served as a summer missionary to the Bahama Islands as a seminary student.
He served as Pastor of Reece Prairie Baptist Church, near Burleson, Texas; Springfield Baptist Church, Springfield, South Carolina; First Baptist Church, Rusk, Texas; First Baptist Church, Frankston, Texas; and two interim pastorates at First Baptist Church, Edgefield, South Carolina and Tyler Street Baptist Church, Jacksonville, Texas. He served as President of the Trustees of Pineywoods Baptist Encampment and on various boards and committees on the associational, state, and national levels in the Southern Baptist Convention. He preached revivals in Massachusetts, Oregon, Oklahoma, Texas, and South Carolina. His travels included Israel, Egypt, Italy, Greece, Cyprus, Germany, and Brazil. His collection of mustache cups was a lifetime hobby. His favorite activities included attending plays, musicals, and all kinds of sports events. Football was his favorite sport. He loved his time as chaplain for high school football teams and in retirement attending all the home football and men and women's basketball games for Sam Houston State University.
Grover is survived by his wife, Charlotte Elaine Nations, better known as Wegi Talbert; one son, Dr. Tony Lee Talbert, and his wife, Dr. Sandra Bass Talbert, Clifton, Texas; one daughter, Tami Talbert Walker, and her husband, Richard L. Walker, Jr., Houston, Texas; three grandsons, Tyler Bass Talbert and his wife Camille, Waco, Texas, Taylor Bryce Talbert, Marshall, and Van Andrews Walker, Houston; one granddaughter, Charlotte Claire Walker, Houston, Texas; nephews, Ben Talbert and wife Nancy, Marion, North Carolina;Dr. Bob Talbert and wife Gigi, Aiken, South Carolina; one niece, Leslie Ann Key and husband Dale, Wilmington, North Carolina. He is also survived by one brother-in-law, Ronald Nations and wife Marillyn Nations of Raleigh, North Carolina. Extended family includes Jody Douglas Jordan, wife Stephenie and children Scott and Rebekah, Katy, Texas; and Vicki Jo Jordan Beard and husband David, Rusk, Texas, and children Ramey Jo Richey, Jordan Beard and John David Beard.
Pallbearers are Bob Clayton and Houston White, Rusk; Johnny Burks and Travis King, Frankston; Tom Sprott and Val Dixon, Huntsville. Funeral services will take place at 2 p.m., Thursday, at Elkins Lake Baptist Church, Huntsville, Texas, with Dr. Ken Hugghins officiating. Interment will be at 2 p.m., Sunday, at Eastview Cemetery, Edgefield, South Carolina, under the direction of Sam Houston Memorial Funeral Home, Huntsville, Texas, and Edgefield Mercantile Funeral Home. Nephew Ben Talbert will officiate at the graveside services.