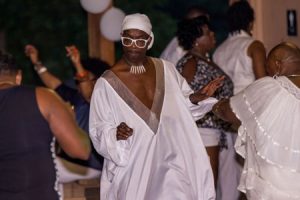 A few years ago, artist Pamela Moore established a group – Personalities on the Square – and she painted portraits of a few of them. (The painting of Terry Ferrell holding his famous feline is probably best known.) Another personality on the square, already inhabiting a place of business for almost a year, starting in The Purple Fence and now The General Store, is Maine, who turned 50 with a bash, hosted by his new "boss" and her husband, George and Beth Thornton.
The 50th celebration was appropriately placed at the National Wild Turkey Federation Pavilion, the site where George holds sway as "boss." The color theme was white, and was carried out in clothing (more like "fashion" for Maine) worn by honoree and guests; hanging lights and balloons, beautiful flower appointments (by Maine no doubt) were feasts for the eyes, not to forget food that held its own attraction.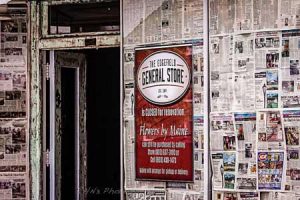 Those flower arrangements deserve a paragraph, because there were touches of fern and turkey feathers (very politically correct) embedded in crystal marbles that reflected the energy in the dancing and fellowshipping that held the evening's fun.
For those interested in The General Store and Maine's talent, there is an ad in this week's print edition (6-18-14) with more information.