It is no longer "business as usual" in Edgefield. Changes are taking place. It was back in 2013 that the Advertiser called the changing faces of some local businesses a kind of "musical chairs." (Businesses were changing spaces in several directions.) The new happening that creates change is closings and openings that bring grief and excitement in one fell swoop, as one would say.
How is this happening?  The SPCA store closed a few weeks ago; Mercy Me! announced their closing, informally, this past week, and Terry Ferrell has a large sign on his business saying "Moving Sale."  However, there are doors to businesses opening as well to stem the tide of what could feel like a local economic downturn.
All these businesses are addressed in articles below.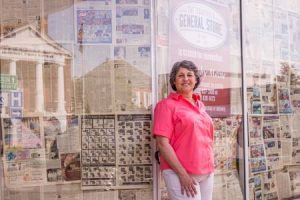 General Store Coming to the Square
"Caught Flatfooted," Warns Thornton
– By Tiffani Ireland –
The Israel Mukashy building will once again be the home of a general store thanks to the dreams of George and Beth Thornton; or as Mrs. Thornton attested, Mr. Thornton's dream. As she explained to The Advertiser in an interview Friday, June 20, the historic building was first envisioned by her as a place to house her dream – a clay studio and school that would be less formal than the one at Piedmont Tech. However, it was quickly determined that the building was too small to accommodate this purpose, but by that time, as Mrs. Thornton explained, her husband, best known to most folks in Edgefield as the CEO of the National Wild Turkey Federation, had gotten excited about the building. It was from that excitement that his idea of a general store was born.
In speaking to Mrs. Thornton it was evident that she, too, has gotten excited about the project of opening a general store on the square which she conceded was moving a little slower than the couple would like due to "all of the codes and rules." The pair have also struggled to find a contractor, but they are happy that they have found "a good architect," Mike Holland, of Aiken. Mr. Holland has completed the plans for the store, and Mrs. Thornton said they are about to get started on the renovations.
When asked what one might find in what is being called The Edgefield General Store, Mrs. Thornton said they will have general merchandise but admitted just what that merchandise will be has not yet been decided. As for what items have been decided, Mrs. Thornton said they plan to have a soda fountain, hand-dipped ice cream, milk shakes and malts, frozen casseroles, fresh pasta, and fresh eggs from their own chickens. The couple intends to apply for a license to sell beer and wine at the store as well. And if you drop by for a treat, some may even be taken back in time when they see the building's original counter and soda fountain machine which Mrs. Thornton shared she and her husband were able purchase from the Keesleys.
With the vacancies now dotting the store fronts on the square from the recent closings of several businesses, Mrs. Thornton said she is not deterred from starting a new business in Edgefield and said she hopes the remaining businesses are able to hold out especially in light of the projected visitors that undertakings at the NWTF are expected to bring to the town. Obviously very much aware of those endeavors, Mrs. Thornton proclaimed that those efforts will bring "a ton of people in town … thousands." Those visitors will need places to stay, to eat, and to shop, she reminded, and said that she thought it is hard for people to understand how much business will be generated by the NWTF. With the influx of these visitors expected to begin next spring, Mrs. Thornton said, in regards to the town not being ready commercially, "I think we're gonna' be caught flatfooted."
As for filling up one of those vacancies on the square, Mrs. Thornton said that she and her husband hope to have The Edgefield General Store open for business in September but added that if they can open sooner, they will. As for that other business on the horizon for the Thorntons, the pottery studio and school, that will take a longer to come to fruition. Due to asbestos being found in glue used on the tile at the site, progress has been halted on this project until the asbestos can be removed. However, when the pair purchased the property for this endeavor, the former site of The Super Ten, they were also able to acquire the garage in front of the old store. That, Mrs. Thornton informed, will soon be the location of a motorcycle repair shop to be operated by BJ Thomas.
Leaving their mark on Edgefield might be a good way to describe the Thorntons, but the leaving part would be inaccurate. As Mrs. Thornton shared, the couple was very interested to find that people were surprised when they found out the two intend to stay in Edgefield and make it their home. "We are here to stay. We love Edgefield," Mrs. Thornton stated. With their creativeness and the many possibilities that Edgefield has to offer toward that end, it seems the couple may have landed in the right place. As Mrs. Thornton said, "This is the perfect town for us."
Terry Ferrell's Antique Shop Leaving the Square
Liquidation Sale Currently in Progress
– By Tiffani Ireland –
It was with an obviously heavy heart that Terry Ferrell spoke with The Advertiser, Friday, June 20, about his moving out of his location on the square after 15 years.  As shoppers browsed about the liquidation sale currently being held in the store, the 92 year old owner of Terry Ferrell's Antique Shop declared, "This is a bad age to be starting over."   Not wishing to focus on the reasons for leaving his current location, the nonagenarian did make it apparent that he is not quite ready to give up the antique business just yet.  Saying he does not know when he might open again, he expressed hopes to eventually open the store once more in another location.  That location might possibly be his home on Meeting Street to where he has already moved the museum that once occupied space in his retail shop.
Readers may recall that The Advertiser reported on the temporary closing of the antique store last year after Mr. Ferrell faced health issues.  While he is better now, he did admit, "I didn't think I would be around in the spring, but I am."  Maybe not as quick on his feet as he was at 85 (he was hanging sheet rock on his 85th birthday), a short conversation with Mr. Ferrell makes it clear his mind is still quite sharp.  As for his physical being, when asked whether he felt 100% again after his recent illness, Mr. Ferrell said, "I'm probably 100% for my age."
Reminiscing about his time in Edgefield Mr. Ferrell shared, "My dream was to develop Pottersville … [I] wanted to establish a pottery tradition."  However, circumstances did allow for that dream to be fulfilled, so Mr. Ferrell said that now he is focusing on his museum.  He said he hopes to have that open soon on Meeting Street.  "I love Edgefield," he went on to say, "and I want to try to fulfill my dream."
Terry Ferrell's Antique Shop is scheduled to be closed by July 1st.  Mr. Ferrell said he hopes he has all his merchandise sold by then as he wants to take nothing with him.  To that end, Mr. Ferrell is "giving a big sale" and hopes everyone will come by and take a piece of his history home with them.
Mercy Me! Closing Shop
Holding Going Out of Business Sale
– By Tiffani Ireland –
Caroline Bland, co-owner of Mercy Me!, confirmed for The Advertiser, Monday, June 23, that Mercy Me! will be closing its doors.  The store, which moved to its current location last year, has been under the ownership of Caroline and her brother Mitchell since they bought it three years ago; before that it served Edgefield for two years in its original location as a Doncaster outlet.  Citing economic reasons and the high demand and challenges for such a "unique type of business," Caroline shared "[closing the store] was a really hard decision and one we have been thinking about many months."  She wished to convey how much they love the customers and community and how grateful they are for all the support.  She went on to say, "I have loved that store and will miss it."  Caroline has not ruled out a return to retail sometime in the future and spoke excitedly of the future of Edgefield saying she felt the town is "headed for real growth."
Mercy Me! has been closed for a few days in preparation for their going out of business sale.  That sale will begin Tuesday, June 24, when Mercy Me! reopens its doors.  According to Caroline, customers can expect to see steep discounts as everything in the store will be at least 50% off.  In addition, due to the amount of inventory, Mercy Me! expects to stay open through at least mid-August.  After that, Caroline insists she's going "to miss it like crazy."